Priority Ambulance Appears on the Inc. 5000 Annual List of America's Fastest-Growing Private Companies for the Second Consecutive Year
August 14, 2019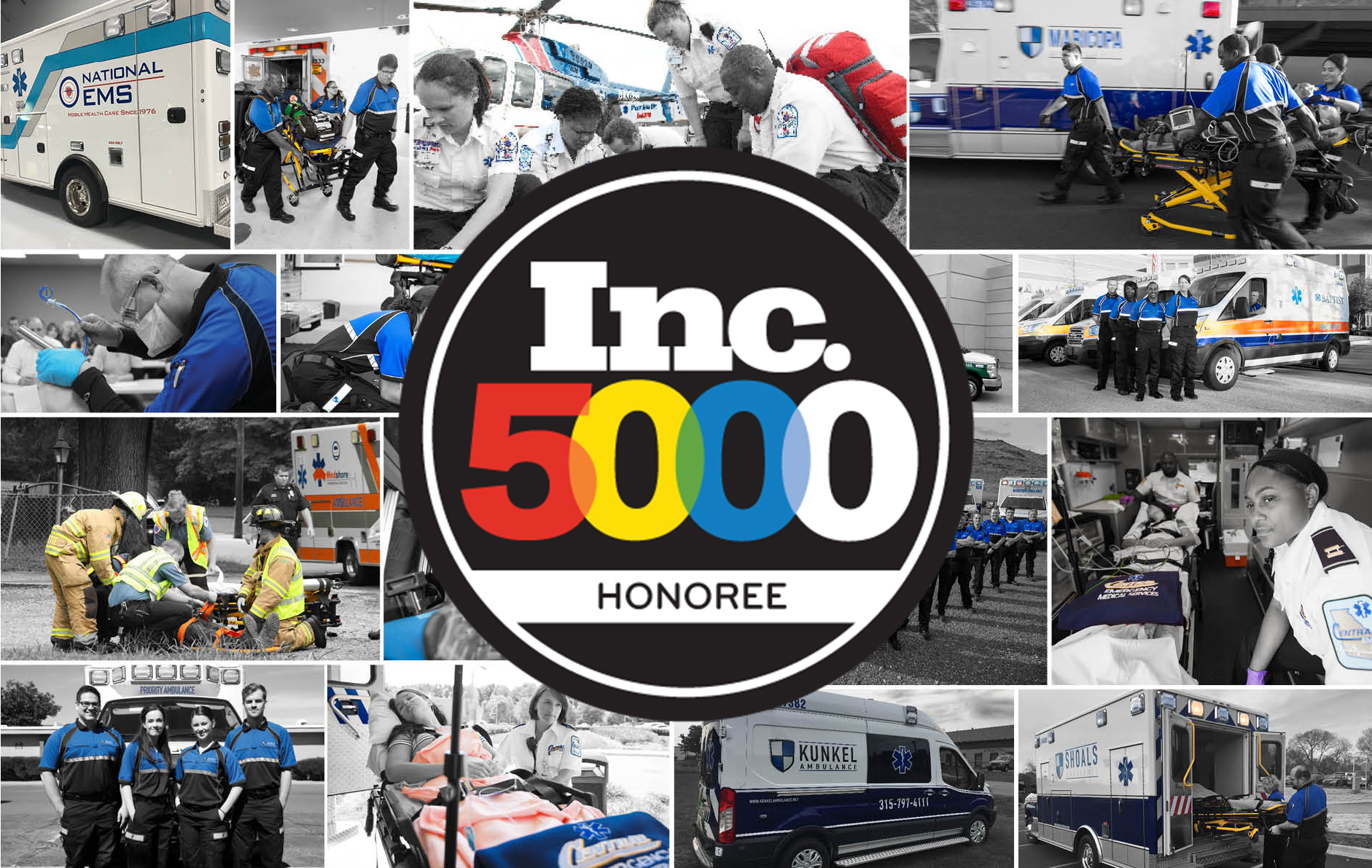 Inc. magazine today revealed that Priority Ambulance is No. 1,654 on its annual Inc. 5000 list, the most prestigious ranking of the nation's fastest-growing private companies. Priority Ambulance reported a 248 percent revenue growth over a three-year period.
"As the company expands and matures, it's even more challenging to sustain such a high percentage growth year over year," said Priority Ambulance CEO Bryan Gibson. "Being honored as one of the Inc 5000's fastest-growing companies two years in a row is a great achievement. Priority Ambulance has sustained accelerated growth over the past five years thanks to the fantastic companies that have joined our family and ultimately, through the dedication of the EMTs and paramedics who serve our patients every day."
Because the percentage growth rate is compared over a four-year period, achieving comparative growth in subsequent years becomes more challenging as the company's overall revenue base grows. Only one in four companies that achieve the Inc. 5000 list becomes a multiple-year honoree.
According to Inc., not only have the companies on the 2019 Inc. 5000 been very competitive within their markets, but the list as a whole shows significant growth compared with prior lists. The 2019 Inc. 5000 list of companies achieved an average growth of 454 percent, and a median rate of 157 percent. The Inc. 5000's aggregate revenue was $237.7 billion in 2018, accounting for 1,216,308 jobs over the past three years.
"The companies on this year's Inc. 5000 have followed so many different paths to success," says Inc. Editor-in-Chief James Ledbetter. "There's no single course you can follow or investment you can take that will guarantee this kind of spectacular growth. But what they have in common is persistence and seizing opportunities."
Currently celebrating its fifth year in operation, Priority Ambulance serves more than 400,000 patients annually with approximately 3,000 highly trained paramedics and EMTs staffing a fleet of 544 state-of-the-art vehicles with the latest medical equipment and technology. Priority Ambulance operates in 10 states under trusted local brands providing emergency and interfacility medical transport services.
Priority Ambulance recognized significant success in 2018, positioning the company to achieve the Inc 5000 list for the second time. The company's growth included a key acquisition in Georgia, National EMS, and substantial expansion in Arizona through new contract wins.
The Priority Ambulance family of companies includes Shoals Ambulance in Alabama; Maricopa Ambulance in Arizona; Puckett EMS in Georgia and Southeast Tennessee; Central EMS in Georgia; National EMS in Georgia; Seals Ambulance in Indiana; Kunkel Ambulance in Upstate New York; Trans Am Ambulance in western New York and Northwestern Pennsylvania; Medshore Ambulance in South Carolina; and Priority Ambulance in East Tennessee. Priority Ambulance also serves Baptist Memorial Health Care facilities in West Tennessee, Mississippi and Arkansas under the Baptist brand.
About Inc. Media
Founded in 1979 and acquired in 2005 by Mansueto Ventures, Inc. is the only major brand dedicated exclusively to owners and managers of growing private companies, with the aim to deliver real solutions for today's innovative company builders. Inc. took home the National Magazine Award for General Excellence in both 2014 and 2012. The total monthly audience reach for the brand has been growing significantly, from 2,000,000 in 2010 to more than 20,000,000 today. For more information, visit www.inc.com.
The Inc. 5000 is a list of the fastest-growing private companies in the nation. Started in 1982, this prestigious list has become the hallmark of entrepreneurial success. Complete results of the Inc. 5000, including company profiles and an interactive database that can be sorted by industry, region, and other criteria, can be found at www.inc.com/inc5000.